Windsurfing area – what's waiting for you A big standing space, long sandbanks with butter flat water and two islands in range of sight guarantee a sense of achievement. Speeding, jibing and making freestyle tricks will be great fun here. In front of the station you have direct access to the beginner's lagoon which is 30 cm to 1 meter deep, depending on the tide and bordered by a sandbank. Directly behind the beginner's lagoon is the speed and freestyle strip which offers very flat water due to the sandbank behind it. With low tide the sandbank is nearly dry and with high tide there can be little wind waves. This is the perfect place for speeder, jibbers, freestyler and all those who want to become one. You can stop everywhere along the sandbank, to either take a short break or talk to other surfers. Small tip: By low tide you can take amazing pictures from the sandbank. Right next to the sand bank are just fingertip high waves which are the perfect conditions for learning of the water start, footpad technique, powerjibe, cool moves or to just fly past. Speeding along butterflat water you start to hear that rewarding sound of your board plaining as the islands fly by. It is the perfect place to really push your limits, we even have a GPS speedometer to give you precise readings on your run.
[/fusion_builder_column_inner]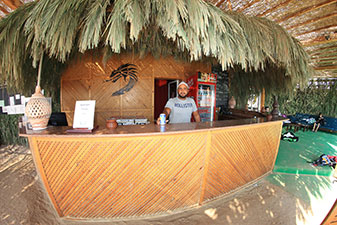 Food and Beverage
At our Surfmotion bar you can quench your thirst with alcoholic-free and alcoholic beverages. Furthermore, it is also possible to satisfy his hunger and re-energize for the next ride …
Contact Us
Have we piqued your curiosity.....
..... then simply contact us and we can answer any further questions .....
Contact Us